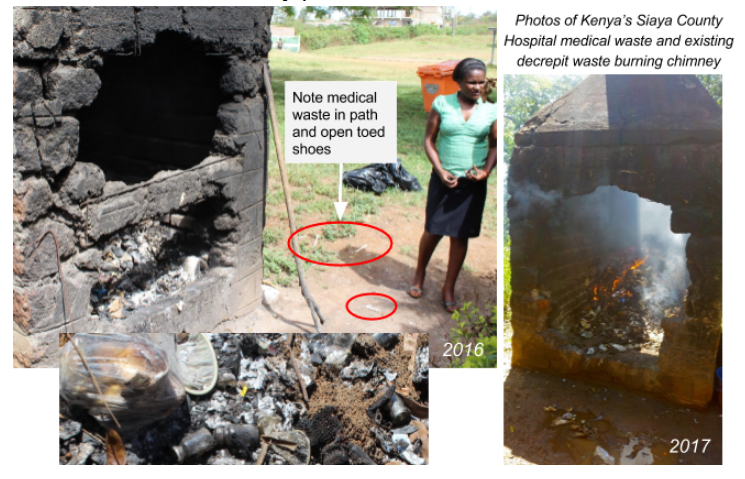 Good morning supporters of Asheville Engineers Without Borders! I hope this finds you healthy and happy!
I'm writing with a long overdue update on chapter activities and progress on our Siaya Hospital medical waste incinerator project.
Y'all deserve a BIG pat on the back: To date, Asheville EWB supporters have raised $8,483 in donations, pledges, and grants!  Only $4,601 must be raised to cover repairs, training, safety equipment, and EWB-HQ admin expense.
This past week, we were honored to share the story of the Siaya incinerator with the Rotary Club of Sylva. They generously donated $240 "happy dollars" collected during the meeting to the project.  Thank you so much!
The 2018 EWB Spring Project Grant application will be submitted this week. Average awards are $5,000. Keep your fingers crossed! Our budget, flyer, and grant cover letter is attached for your reference.
We need your help! We must complete the project by May 2018 or we will lose a $1000 grant pledged by the Asheville-Biltmore Rotary Club. You can:
Donate 10 minutes of your time to help cull this list of potential grants/funders. Contact me directly to get started.
Help us apply for those grants. We have boilerplate language, photos, budgets, etc.
Contact friends and family for pledges. We have $3,050 pledged to date! Pledgers aren't required to pay unless we meet our goal.
Contact companies about corporate sponsorships. We are open to all options.
Make a tax deductible donation directly to the project at http://ewbasheville.org/donate/
Want to travel to Kenya with us!?! Contact me directly to discuss details!
All the best to you,
– – – –
Benji Burrell
Business and Technology Engineer
(828) 283-0744 office, (804) 662-0964 mobile
benji@benjiburrell.com
Website • LinkedIn
"Be the change you wish to see in the world" — Mahatma Gandhi
PDF – 2018 One page handout – Siaya County Hospital Incinerator
PDF – Siaya Hospital EWB Asheville – Budget
PDF – Siaya Hospital EWB Asheville – Cover Letter – 2018 Spring Grant