Fall 2018 Update
Asheville engineers without Borders is proud to be a close partner with Rotary international Chapters of western North Carolina.
Members of our chapter are also Rotarians in the Asheville area.  Benji Burrell is the international programs co-chair of the Rotary Club of Asheville.  Chris Gilbert P.E. Is the president-elect of the Asheville Metro Rotary Club.
Since our chapter founding in 2008, we have partnered with several Rotary Chapters and other organizations to support a community in the Mungao sub-location in western Kenya: Uluthe.   Uluthe, Kenya is a poor subsistence farming region of 8-10,000 people.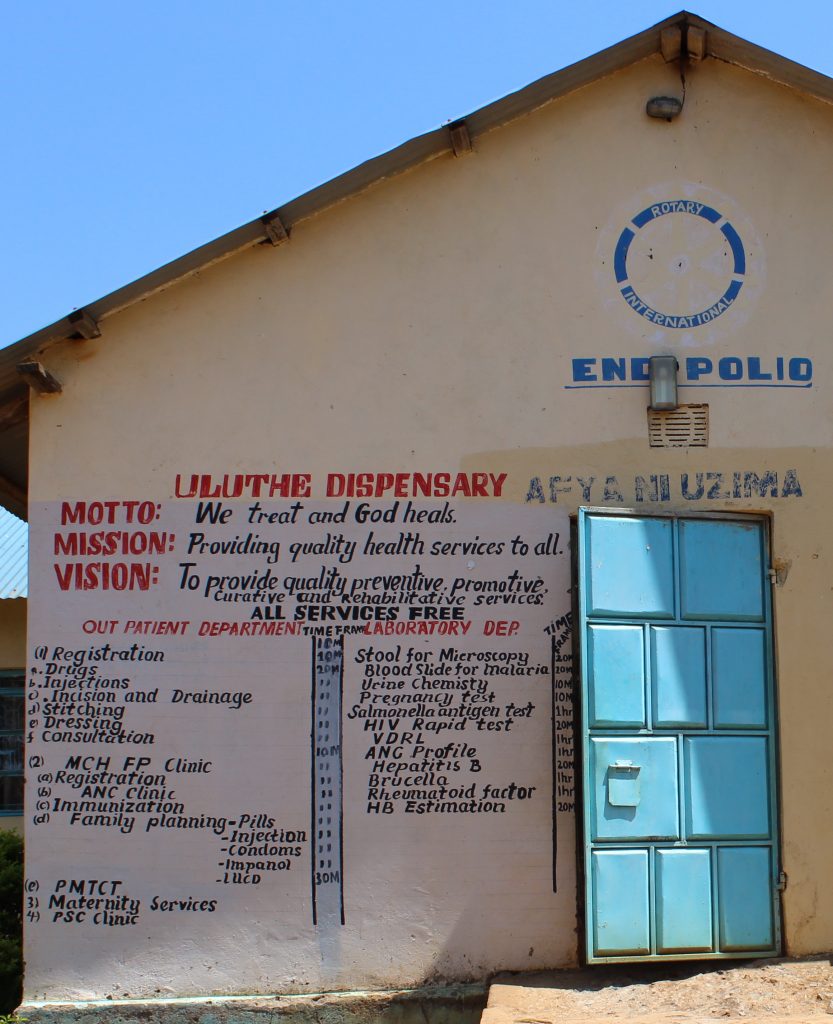 Our community contact, Mr. George Oyeho, is member of the Rotary Club of Nairobi Utumishi.  Mr. Oyeho grew up in Uluthe, but earned a degree and lived in the United States for 18 years.  After returning to Kenya, he leveraged his contacts in the US to support those in need in his hometown.  Through Rotary International, they built a community clinic in Uluthe, which now provides free medical care to the region's residents.
Our chapter has raised funds and provided engineering expertise for the drilling of two wells in Uluthe: one at the Uluthe School, and another at the Uluthe Clinic.   During our well implementation trips, our engineers saw barefoot children playing in burn pits used to dispose of medical waste.    As a result, in 2016, our chapter provided design and construction of a medical waste incinerator at the Uluthe Clinic.
Our current focus is another project coordinated with Mr. Oyeho: the repair and rebuild of a much larger medical waste incinerator at the Siaya County Referral Hospital.  They serve 300+ people per day and are forced to burn their waste in an open brick chimney.
People from all over Western North Carolina contributed to the Siaya Hospital incinerator project in the form of a Rotary District Grant! Some matching funds are now available to the project thanks to the generous support and hard work of the Caldwell Rotary Club, Blowing Rock Rotary Club, Highlands Rotary Club, Asheville-Biltmore Rotary Club, Rotary Club of Sylva, Rotary Club of Asheville, and  Rotary District 7670 of Western North Carolina.
Thanks to everyone involved!
—
Below is a clip from the newsletter of Harambee Kenya, a US based non profit organization established byMr. Oyeho and Mrs. Carol Carper, a member of the Rotary Club of Evergreen, Colorado. 
http://www.evergreenrotary.org/Stories/carol-carper-amp-sasa-harambee
See attached for the entire newsletter.
---
HARAMBEE KENYA NEWSLETTER CLIP
Harambee Kenya was established by RT. Carol Carper and George Oyeho in Colorado in 2008.(501c3) The focus area was the neighboring Mungao sublocation. In 2011, the chief of the location and village leaders asked Harambee Kenya to expand to three other areas in the location: Got Osimbo, Sigomere, Madungu. Through Carol and George the project has received close to $200,000 in Rotary grants. In Mungao working closely with the Uluthe Community Project (CBO) and in partnership with Friends of Africa Education (NGO out of Minneapolis Minnesota donating $300,000) schools and a medical clinic have been built or renovated. Repair of wells, spring protections and latrines have been addressed. Sustainable organic agriculture training leading to food security has been present since 2008. In 2011, a strong new initiative was begun to train individuals and groups in business practices and cooperative governance. (CIGs) A small community owned microfinance institution exists. Harambee Kenya works with a number of Kenyan Rotary Clubs. George Oyeho's Nairobi Utumishi club has partnered on numerous grants since 2008. They continue to coordinate projects through George. George holds both Kenyan and US citizenship. He currently divides his time between Nairobi and Mungao in Kenya.
full newsletter here:  Harambee Kenya October letter